1 | 2
New Millennium's credit list goes on. The Academy Award-nominated The Contender, starring Jeff Bridges and Joan Allen, shot interiors at New Millennium and employed its Oval Office and (styrofoam) White House exterior as have documentaries in recent years, including an Emmy-winner from the BBC about President Truman.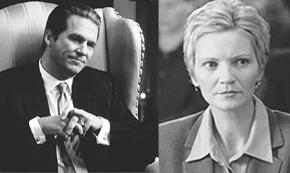 New Millennium is also prepping another Reid-produced feature (tentatively titled A Deadly Affair), the productions of which hinges on the writers strike. The Studio just hosted some spots for K-Mart for The Don Coleman Agency/Detroit.
A previous New Millennium credit is Linc's, a series Reid created which aired on Showtime for two years. It was the first multicamera film shoot for a half-our TV series outside Hollywood or New Your since the The Jackie Gleason Show.
Despite the strides his studio has made, Reid has been surprised by some reistance to his efforts.
"I think regional people are not coming forward," he says. "They think I'm competing with Wilmington [North Carolina], but the fact is, we're both losing business to Canada. We need to think collectively to nurture and an industry that's rapidly moved north. Really, not that much money is separating what we can do here and what's done in Canada. We have to come up with a plan to get some of this business back."
Reid points out that only a handful of people gave New Millennium a chance to survive a year. "We couldn't get a loan. Virginia only did about $50 million a year in economic impact before I came here. In our first full year here, 1998, we accounted for an additional $15 million.
"This isn't an overnight affair. If we stay here, it's because we have an opportunity to grow. We are doing what a major studio does on a very small scale. And we're ahead of schedule, if anything," he reports.
Reid concedes that his venture has its good and bad days. "We have growing pains like any business. As soon as people understand that, they'll judge us on a fair level. Look at Wilmington or any of these places. They didn't happen overnight."
New Millennium's "distractors," as he dubbed them, "are people who always say 'can't,' those who are fearful to take a step forward. And when you do, they rag. I'm going against the grain here."
To Reid, his venture is simply a young business in the early stages of building a film industry outside Hollywood. And like Silver Star, setting a precedent.
"This is the first full-service studio in Virginia, period. That means we have growning pains. People forget that it took a decade for Wilmington to get going. The whole idea is a long-term, successful business. So, we keep going. That's my formula for success."
Mark. R Smith
Markee Magazine, April 2001